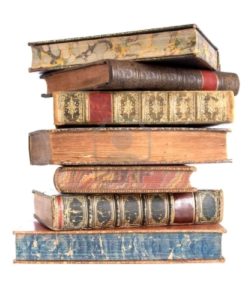 Publishing giant Harper Collins is marking its 200th anniversary. The company yesterday announced a worldwide campaign to celebrate two centuries of publishing, with a website hc.com/200 showcasing HarperCollins' history and influence on readers of all ages, preferences and nationalities as the centrepiece of those celebrations.
HarperCollins CEO Brian Murray says the publisher's goal is unchanged from what the founders set out to achieve two centuries ago—to help authors and their works reach their fullest potential and widest readership.
HarperCollins Australia and New Zealand CEO James Kellow says: "We are incredibly proud of our global literary history. Two hundred years of publishing is an incredible achievement."
The company is no less proud of is local contribution as one of New Zealand's oldest publishing companies, he says.
"The company opened its doors in New Zealand in 1888 and over the years has contributed generously to the country's literature with authors as diverse as Ngaio Marsh and Margaret Mahy, and books such as Delinquent Days by John A Lee, and Peter Mahon's Verdict on Erebus.
"We love a good story, we care passionately for writers and readers, and we look forward to upholding this fine tradition into the future."
HarperCollins, the publisher of Mark Twain, the Bronte sisters, Thackeray, Dickens, H. G. Wells, Agatha Christie, J R R Tolkien, George R R Martin, C S Lewis, Banjo Patterson, Henry Lawson, May Gibbs, and many more, has a long and rich history, which book-lovers can explore via a wide array of exclusive and interactive  content available now on the website.
Visitors can delve into the literary heritage of HarperCollins, and will discover everything from images of captivating artefacts from the company's archives, to a collection of iconic HarperCollins books, to short stories that illustrate significant moments in the company's history.
Content will also be shared on the company's global social media accounts, and readers dare invited to join the conversation online using #hc200.
The anniversary website includes five key sections:
Curated with the help of booksellers and librarians from around the world, the HarperCollins 200 is a global collection of 200 iconic HarperCollins titles — books that have inspired, informed, entertained, and endured. Titles from the collection include:
Moby-Dick (Herman Melville, 1851)
The Lion, the Witch and the Wardrobe (C. S. Lewis, 1950)
Charlotte's Web (E. B. White, 1952)
The Alchemist (Paulo Coelho, 1993)
A Game of Thrones (George R. R. Martin, 1996)
Journey through key moments in HarperCollins history, from its humble beginning as a small printing business in New York City to its current role as a global publishing powerhouse operating in 18 countries.
These short snippets delve deeper into significant moments in HarperCollins history, lending further detail to noteworthy moments, innovations, and authors in the company's evolution.
This collection of high-resolution images of artifacts from the HarperCollins archives includes original story notes from authors; correspondence between executives and authors; vintage photographs; original manuscripts; and first editions. Highlights include: a sympathy telegram to Coretta Scott King the day after the assassination of Dr Martin Luther King Jr.; a letter from Agatha Christie sharing her opinions on a publicity blurb and her book cover; and an original sketch suggested by Syd Hoff for Danny and the Dinosaur.
HarperCollins asked its authors from around the world why they write, why they read, and what books have influenced them. Dozens shared their thoughts, including Jackie French, Richard Fidler, Tara Moss, and Donna Hay. Visitors to the website will also be encouraged to join the conversation and share their own experiences and passion for reading via social media using the hashtag #hc200.
The website will be a springboard for activities created by local teams across the globe and designed to bring the 200th anniversary to life in each market. They include a campaign to support literacy and reading, charity projects, and an exhibition of historical items at the Columbia University Rare Book and Manuscript Library in New York City.
Follow HarperCollins on social media to stay up to date with the latest anniversary activities.
Latest posts by Jillian Allison-Aitken
(see all)